Mudjacking Solves Slab Settlement Problems
Mudjacking Experts In Northern Indiana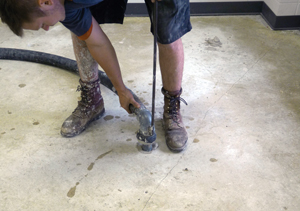 Concrete is an amazing material. It's strong, stable, and extremely durable, making it an ideal material for foundations, sidewalks, floors and other structural elements. But concrete does have two characteristics that sometimes cause problems: It's heavy and it's relatively weak in tension.
Slab settlement is often accompanied by cracking
The considerable weight of a poured concrete slab sometimes causes the soil beneath the slab to compress. This is more likely to happen when the soil has poor load-bearing qualities, or when the soil wasn't properly compacted or prepared prior to installing the slab.
Unfortunately, these soil situations occur quite frequently, which is why we often see sidewalks and floor slabs that have settled or tilted downward.
Slab settlement rarely happens uniformly. Usually, soil compaction occurs more in one section than another. When this happens, the slab is likely to crack because of concrete's poor tensile qualities. Concrete can't stretch or bend, so it cracks. Slab settlement and cracking go together.
Regardless of why you're experiencing a foundation problem in your home, Foundation Supportworks, Inc. conducts a thorough inspection of your home and we'll let you know exactly what steps need to be taken to permanently stabilize your foundation and restore value to your greatest investment.
We proudly serve South Bend, Fort Wayne, Gary, Valparaiso, Elkhart, Goshen, Mishawaka, Michigan City, La Porte, Crown Point and many nearby areas.
Mudjacking is an effective technique for leveling and stabilizing settled slabs
Fortunately, a settled or sunken slab can often be brought back to level (or close to it) by a process called mudjacking, which is also known as slabjacking or grout pumping. When this technique is performed by an experienced foundation repair contractor, it can be a permanent repair that closes wide settlement cracks and restores a slab to its original state.
The first step in any repair related to soil settlement is usually a soil test or assessment. In cases where weak soil is extensive, extending over a wide area or to great depth, the foundation repair specialist may suggest that steel piers be installed to connect the slab with denser, more stable soil at greater depth. Mudjacking can be done along with piering repairs, or on its own; the decision depends on soil conditions.
A mudjacking repair begins by drilling holes in the slab where the injection nozzle will be placed. Holes are strategically placed so that the injected mortar will fill voids beneath the slab and create lifting pressure. The consistency of the slurry can be varied based on how much lifting pressure is required; a thicker mixture can lift heavier slabs. Typical ingredients in the slurry include Portland cement, sand, flyash (a byproduct of coal combustion) and different additives that help prevent shrinking.
After the slurry flows into the voids and fills all the empty spaces beneath the slab, it starts to exert hydraulic pressure, pushing the slab up toward its original position. Large cracks that occurred when the slab settled typically close up and can be patched with spot applications of mortar. Mudjacking access holes are also filled in at this time.
Because of the specialized equipment and training required to pump concrete under pressure, mudjacking is best done by an experienced foundation repair contractor. Mudjacking provides a less expensive and less disruptive alternative to demolishing damaged slabs and pouring new ones in their place.
Mudjacking Services In Indiana!
At Foundation Supportworks, Inc., we use mudjacking to repair settling foundation slabs throughout our service area, including Gary, South Bend, Fort Wayne, and nearby areas in Indiana.
If you'd like a cost quote on mudjacking for your home, or you'd like to learn more about our services, call or e-mail us today! We offer free mudjacking quotes at no obligation to you.

Related Pages
Looking for a price? Get a no cost, no obligation free estimate.